The NGSA was formed in the 1970s. It is a non-political, not-for-profit organisation supported by parents, school governors, heads, teachers, educationists and others, all concerned with the retention and promotion of the UK's grammar schools as a valuable choice for parents.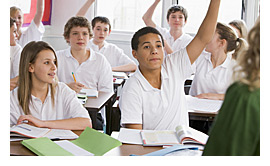 At present, England has 164 grammar schools and Northern Ireland has 69. Our primary purpose is the preservation of these excellent state schools, all of which face threats from various quarters. Our secondary purpose is to encourage the formation of more grammar schools, especially in areas of the country where none currently exist.

Through factual information and reasoned argument, we regularly contribute to the debate about the future of our schools, both nationally and locally. So please continue to use this website as a central information point for questions about grammar schools.

In the meantime, please explore the arguments for grammar schools by using the links on the left and below.
Above all, please keep us informed.
---
---
---


Grammar schools are under threat and need your support
To succeed in its endeavours, the NGSA needs the physical and financial support of every parent, pupil, teacher, governor, and all who feel they or someone near to them benefited, or may benefit, from a grammar school education. Only 'people power' will succeed and the NGSA exists to focus that power locally and nationally.
If you would like to help, please follow one or all of the links below.