12th December 2002 - Daily Mail
The school Charles Clarke attended was not only independent but also selective.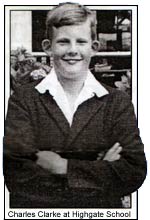 When he was at Highgate School, North London, in the Sixties - current fees are £9,000 a year - it admitted pupils on the basis of scores in either the common entrance examination or, for those joining from the junior section, internal tests.
The son of distinguished civil servant Sir Richard Clarke, the current Education Secretary was brought up in the wealthy suburb of Golders Green, near to historic 440-year-old Highgate.
He attended the school between 1964 1969. From there he went on to study maths and economics at King's College, Cambridge.
In the academic arena, grammar schools are regarded as centres of educational excellence that have survived pressure to close for more than four decades.
A study last year indicated that pupils do better at grammar and secondary modern schools than at comprehensives, both overall and in most ability ranges.
The report published by the National Foundation for Educational Research fond that pupils of average and above-average ability at comprehensives lag a year behind peers at grammars since their teachers do not create a climate of 'high achievement'.
An earlier report by former government adviser Dr John Marks revealed that grammar and secondary moderns achieve combined exam results 30 percent higher than comprehensives.